Armbruster marks 100th Anniversary
From a May 30, 1987 article in the Southwest Times Record
Written by staff writer David Alexander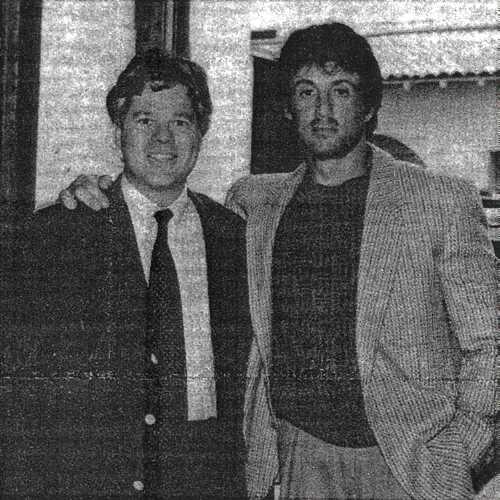 Tom Earnhart (left) and actor Sylvester Stallone. Stallone uses Armbruster limos and
sometimes gets them in his movies. King Olav V of Norway visits his holdings in an
Armbruster limousine. Author William F. Buckley owns one and sometimes writes about it.
---
A hundred years ago, three Fort Smith men went into business together building and repairing horse-drawn wagons.
After a century in which few things have changed as much as has transportation, that little business still exists. Armbruster/Stageway has changed as dramatically as the times, building now limousines and funeral coaches instead of sulkies and surreys, but it is there to mark its centennial - part of it in the same building it has occupied since 1887.
Armbruster is marking the anniversary in a very quiet manner. Each car built this year bears a special "100 Years" badge below the Armbruster/Stageway shield that appears somewhere on the body.
That shield will go on more than a thousand cars this year. Armbruster/Stageway is not only the oldest custom vehicle builder in the country, it is the largest, with almost a third of the total U.S. market and a decent chunk of the overseas business.
King Olav V of Norway visits his holdings in an Armbruster limousine. In America, so does actor Sylvester Stallone, who gets them into his movies. Author William F. Buckley owns one and sometimes writes about it.
The little Fort Smith company, owned since 1985 by publicly-traded NEOAX Inc. (Northease Ohio Axle), is concentrating increasingly on the world marketplace. Tom Earnhart, who followed his father and his grandfather to the helm of Armbruster/Stageway, quit the top job there recently to form a new company devoted to marketing its vehicles overseas.
Even overseas, the Cadillac and Lincoln marques keep their aura of exclusivity after Armbruster works its magic on them. But its work is turning international. Mercedes-Benz cars are shipped to Fort Smith to be stretched and sent back to Europe; Armbruster recently turned several Toyotas into pocket limos.
But when A.K. "Tommy" Armbruster, Charles Kayser and Walter Walkord got together to repair and build horsedrawn wagons in 1887, the international balance of trade was the furthest thing from their minds.
None of them would ever see the king of Norway or Arab sheiks riding in their handiwork, but one, at least, lived to see the dawn of today's company 63 years later.
Though founded before the days of the internal combustion engine, Armbruster & Co. slid easily and naturally into automobile repair. But its entry into the conversion business was a chance thing. Sometime in the early 1920s a local bus company, Jordan Bus Lines, asked if it was possible to stretch a car into a small bus, one they could drive profitably on short runs to nearby towns.
Armbruster gave it a shot and by the best guess available finished the first stretch coach in 1923. They kept up the customizing business for the next quarter-century, building about 20 cars a year.
Kayser died and Armbruster retired in 1949, 62 years after they started the company The business, it's original 10,000 square-foot shop on North Ninth Street, and its six employees went to a Cincinnatti businessman named Ed Robben and his on-in-law, Milt Earnhart, who later became a state senator from Fort Smith. They took over on May 1, 1950.
In 1966, after Robben's death, Armbruster merged with Stageway Coaches, a dealer originally from Cincinnatti that had handled the majority of the limo builder's sales since the 1950s.
Spurred by a major advertising campaign led by Tom Earnhart and the establishment of a national dealer network, Armbruster enjoyed its greatest growth in late 1970s and into the 1980s. Today, some 200 employees work in the original North Ninth Street factory and a modern, 80,000-square-foot plant on South 28th Street. More expansions are planned.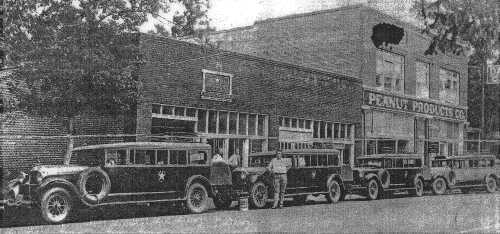 White Star Lines conversions about 1926, parked at Ninth and E Streets in Fort Smith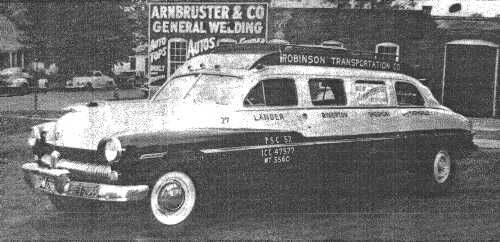 Interior pillar post of a 1950 Mercury were constructed of oak covered with sheet metal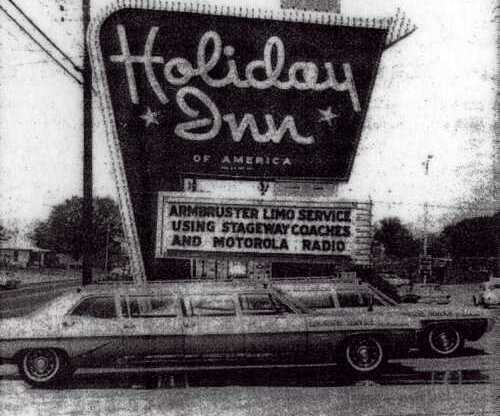 1968 Pontiac airport limousines by Armbruster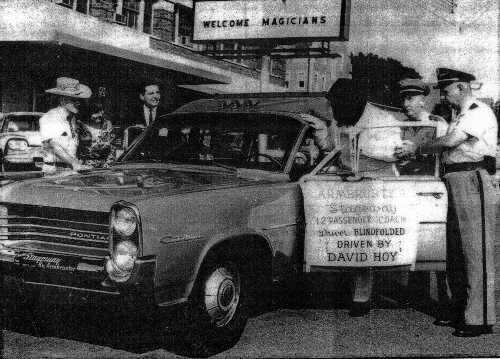 1964 Pontiac conversion used in a publicity stunt in conjunction with
the International Brotherhood of Magicians convention held at the Goldman
Hotel. The blindfolded driver escorted by motorcycle police motored
safely down Garrison Avenue, according to Bill Pits, businessman and magician.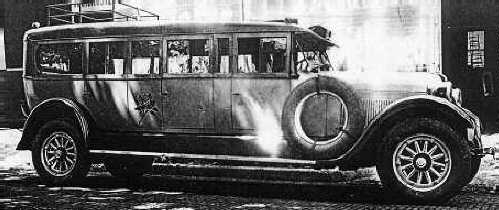 Early Armbruster stretched Buick built about 1926 for the
Rosebud bus lines for passenger service to McAlester.
For more information see the 'Articles' page below.