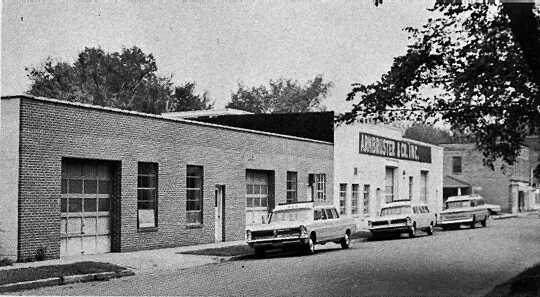 Modern Armbruster factory is located in Fort Smith, Arkansas
One of Americas few bus manufacturers specializing in stretchout and custom sedans is the Armbruster & Company of Fort Smith, Arkansas. The coaches are marketed under the familiar Stageway name.
The Stageway name is significant for in its early days of manufacturing, and this dates back to 1887, Armbruster and Company built "holdup proof" stage coaches. Tom Armbruster, Charles Kaiser and Walter Walkford were original partners in this company.
The first stretchout motor coach was built approximately in 1923 when Jordan Bus Company came to Tom Armbruster to ask if he could stretch out a touring car for his small but growing bus line. From then on, much of Armbruster production has been building buses and limousines.
However, up until 1949 when Mr. Kaiser passed away and Mr. Armbruster decided to sell out, production was about twenty units a year. There were about a dozen employees.
The new owner was Ed Robben, who took over the ownership and management May 1, 1950. He had a 10,000 sq. ft. plant and six employees. In 1956 the company was incorporated. Tom Robben, a son, and Milt Earnhart, a son-in-law, became stockholders. When Ed Robben passed away in 1966, Tom Robben and Milt Earnhart became the active officers and operators of the company as President and Vice President respectively.
Armbruster and Company has grown in the past decade. The plant in Fort Smith is now over 50,000 sq. ft. and there are 55 employees. Production is up to 360 coaches a year, about one a calendar day. About 40 to 45 coaches are in production most of the time.
The manufacturing process is well planned. ordinary factory-built cars are not used for the stretchout process. Cars coming to Armbruster and Company have what is called the "Armbruster package". This generally consists of heavy duty rear axle, special suspension, heavy duty shock absorbers, maximum engine cooling package including high capacity fan, special power steering, power disc front brakes, heavy duty automatic transmission, oversized rear drum brakes, special heavy duty 15 inch wheels and 8.90 x 15 inch 8 ply tires plus other special features.
When these special cars of the buyer's choice come from the automobile factories they go to the Armbruster cutting stalls. Workmen with saws and torches cut the cars in half and then proceed to lengthen them out, install a heavy duty frame and fabricate a new roof, floor and side sections. New doors are constructed and installed. A number of the parts are stamped out by the large new press recently acquired. New drive shafts are made and balanced.
Next the coach is completely undercoated with a one-eighth inch coating. Then it is carefully prepared for painting. The original color is matched or a new color to the operators spec ification is applied. The plant has a modern painting booth and drying room.
Next step is the trim shop. Here seats are manufactured to match existing front and rear seats. Also side and roof paneling is installed as well as flooring. Outside trim is also put on at this position in the manufacturing process.
The coach is then finished and ready for delivery. Armbruster & Company even has its own driveaway delivery organization with five men who do deliveries only. Although some buyers pick up their coaches themselves, about 97% are delivered by the driveaway organization.
In the Armbruster/Stageway offices is a map showing where Stageway coaches are in service. Tacks pinpointing the spots where there are Stageway coaches cover the map like a forest. There are over 1,000 Stageway coaches on the four larger islands in Hawaii. Many are found in Canada and even Turkey, Guam, Switzerland, Lebanon, Curacao, Mexico and many other places. An export office in New York handles overseas sales.
The marketing subsidiary, Stageway Coaches Inc. was formed in 1962. Milt Earnhart is the present President of this sales agency. Mrs. Julia Robben is Vice President and Tom Robben is Secretary Treasurer.
Among many users of Stageway Coaches is the Connecticut Limousine Service of New Haven with over a hundred units, and Brown Limousine Service of New York, with close to one hundred units. Brown, incidentally, uses a number of their coaches for transporting airline crews from airports to downtown. Captains of some foreign airline crews will not ride with the crew, therefore Brown must use a coach and a station wagon in these cases. With larger crews anticipated with forthcoming larger aircraft, Armbruster is now building the fifteen and eighteen passenger coach from an International Carryall vehicle.
About seventy -five percent of Stageway coaches are used for airline transfer purposes. Another twenty percent are used for sightseeing and others are in service by small feeder bus routes, hotels, resorts, schools, bands, etc. Toye Brothers Sightseeing Tours in New Orleans are a big Stageway customer. Coaches delivered to Toye Brothers are Plymouths stretched out to make them roomy seven passenger limousines. Airport services in Washington D.C. are operated with similar Plymouths but the seating is with three abreast --- red, white and blue bucket seats.
Another interesting Armbruster product is custom limousines. These are built under a subcontract from the Imperial Division of Chrysler. They are usually regular Imperial sedans lengthened out one section and then installed with a set of plush seats facing the rear. Then a custom built console is built and placed in the rear compartment. It usually contains a television set and a stereo unit. Five of these cars were built last year. They are used mainly by corporation executives, government officials. Production of these special units is limited to about twenty to twenty-five a year.
The Armbruster plant has very faithful and dependable workers. Turnover is less than one half of one percent. The devoted, enthusiastic management has a great pride in the coaches produced as well as the plant itself and of course this reflects onto the work force.
This is the Armbruster/Stageway story. Truly a unique bus manufacturer and serving an important purpose in the bus industry.