Earle Moloney sees Improving Outlook for Coachbuilders
Founder of Moloney Coachbuilders notes strong competitors and knowledgeable
buyers as he bids to regain prominence at Chicago Armor & Limousine
Written by Scott Fletcher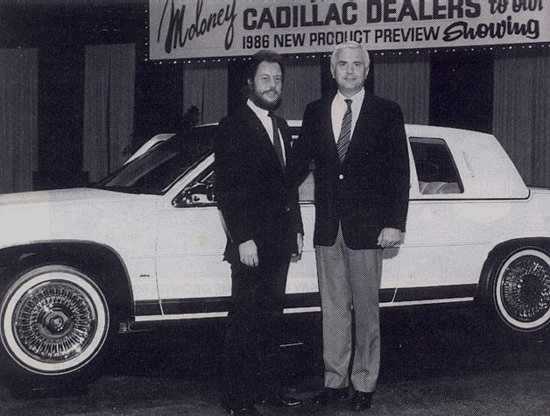 When Earle Moloney (left) appeared with Cadillac General Manager John
Grettenberger at Cadillac's dealer preview in 1985, he had more than 11,000
limousines and specialty vehicles. Later that year, Moloney sold Moloney
Coachbuilders to Cadillac dealer Jacques Moore and left the industry until 1991.
---
Earle Moloney was a real estate developer and executive with the family-owned Molon Motors Corporation in 1967 when he cut and stretched two Lincoln limousines. This was a complete departure for Moloney whose family owned the Bally Manufacturing, Comar Electric, and Molon Motor & Coil companies. Moloney's experience in manufacturing electrical products was little preparation for building limousines. "People asked why I would do anything that foolish," remembers Moloney. The answer was that Moloney loved the idea of custom limousines and saw few people building them. By the time he sold Moloney Coachbuilders to Cadillac dealers Jacques Moore in 1986, Moloney had built more than 11,000 limousines, armored vehicles, and custom automobiles. More than anyone else, Moloney had helped to usher in the era of the contemporary stretch limousine.
Moloney's decision to re-enter the limousine market is an auspicious sign for the limousine industry. It follows an upturn in limousine sales in the 1993 model year. It also reflects Moloney's feeling that corporate America will increasingly rely on stretch limousines as the stock market remains strong and the economy continues to improve.
When Moloney first began building limousines, the challenge was to attract buyers to a new form of transportation. His challenge today is to attract buyers who can choose from more than a dozen manufacturers tutored in manufacturing and quality control by Lincoln and Cadillac. "When I started," says Moloney, "there was no alternative to the factory Cadillac limousine. I wondered how, there could be a market for 1,200 to 1,800 units a year with absolutely no choice. All limousines had jumpseats and cloth interiors. Leather seating and other options were outrageous."
Moloney's first two years featured expermentation with 12-inch stretch limousines and Cadillac station wagons. One of Moloney's intentions was to provide a wider selection of vehicles for Cadillac dealers. Another potential market was the building of custom limousines for celebrities and private individuals. Moloney quickly found success in both of these markets. Customers would include Elvis Presley, Frank Sinatra, John Wayne, and Liberace.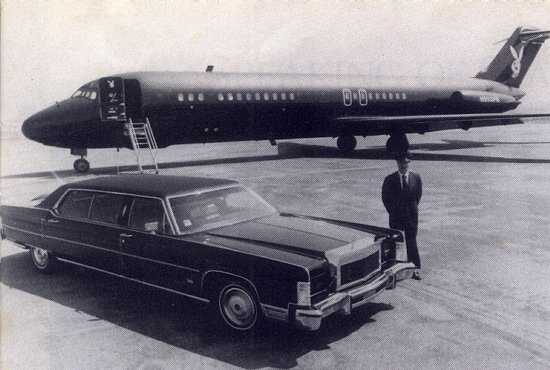 One can only imagine how playboy Hugh Hefners used his 1974 Moloney Limousine!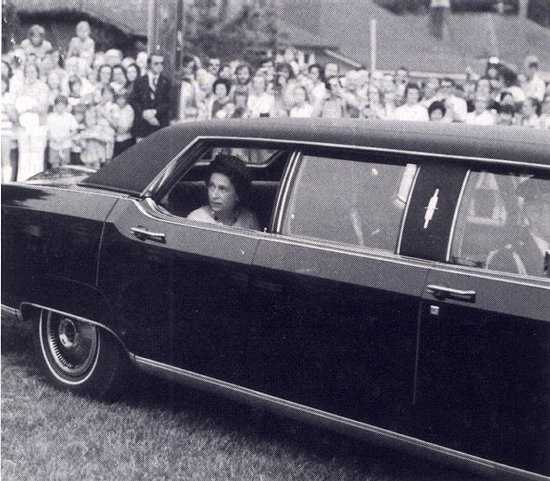 Moloney limousines were a favorite choice by heads of state such as Queen Elizabeth
In 1970, Moloney Coachbuilders expanded to include George Lehmann and Bill Palmer from the innovative coachbuilder Lehmann-Peterson. Lehmann headed sales while Palmer managed a production team that included a number of Lehmann-Peterson veterans.
Cadillac dealers responded eagerly to new innovations such as rear-facing bench seats in place of the traditional jump seats. Cadillac welcomed Moloney as a means of extending its presence in the limousine market and invited him to exhibit his vehicles at annual new model previews. "1970 was a turning point," says Moloney With his models refined and production running smoothly under Palmer, Moloney established a network of dealers in major cities. In New York, Potamkin Cadillac would eventually sell more than 2,000 Moloney limousines including 280 in a single year.
As the livery industry grew in major cities around the country during the 1970s, many operators chose Moloneys over the Cadillac formal because it suited a wider range of customers. With a television and rear-facing bench seat, limousine operators had a vehicle that could work seven days a week.
Moloney sales grew steadily during the 1970s despite competition from other early coachbuilders such as Executive, Gaines, and American Custom Coach. The Moloney sales staff included Matt Baines who later founded Limousine Werks, and Tom O'Gara who started O'Gara Coachworks which is now O'Gara/Hess & Eisenhardt Armoring.
"In 1977, Executive had a pricey car and was doing a good job in retail selling," says Moloney. Even though his competitors were selling factory-direct, Moloney continued to sell through Cadillac dealers. "We have worked with some great dealers like Hanley-Dawson and Penske," says Moloney, "and we relied on them because we were not qualified to service limousines ourselves. Some coachbuilders made it hard on dealers by undercutting them and going directly to the customer. When I have a commitment to a dealer, I never undercut them."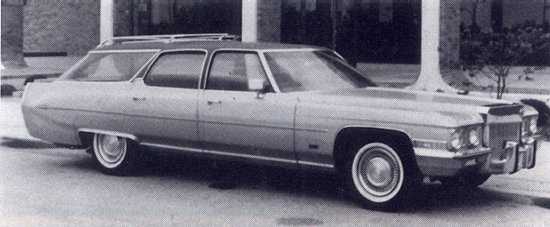 This station wagon was among the vehicles Moloney developed for Cadillac dealers
After a decade of building limousines, Moloney's business continued to grow as demand for Cadillac's formal declined. In 1980, he was by far the largest of 12 limousine manufacturers. Concerned about the level of quality in the industry Moloney decided to make a statement to the industry by performing a crash test on one of his cars. "I just wanted to prove that we were building a safe car and set our company apart from the cornpetition," he says. "We were starting to get a number of competitors and I felt that some of them were building shoddy cars." Moloney sent a Cadillac limousine to a test facility where it was loaded with a 300 pound sandbag on every seat and crashed at 31 miles an hour. "It performed just as it was designed to," says Moloney "The front hood folded up like an accordion instead of coming back through the windshield. It surprised a lot of people including Cadillac engineers."
The success of this limousine crash test in 1980 "surprised a lot of people
including Cadillac engineers" says Earle Moloney
Looking to expand and build limousines with lower overhead, Moloney opened a plant in Ft. Smith, AR, where he built corporate and six-door limousines. In 1984, he opened another facility in Margate, FL, to build a line of less expensive limousines under the name Federal Manufacturing. "We built four cars a week and it was extremely profitable," says Moloney in 1985, however, Moloney consolidated his manufacturing and his 150 employees into a 150,000-square-foot facility in Chicago where Bally Manufacturing had previously built slot machines and gaming equipment. The plant opened with a party attended by Cadillac general manager John Grettenberger, Illinois Governor James Thompson, and Chicago Mayor Harold Washington.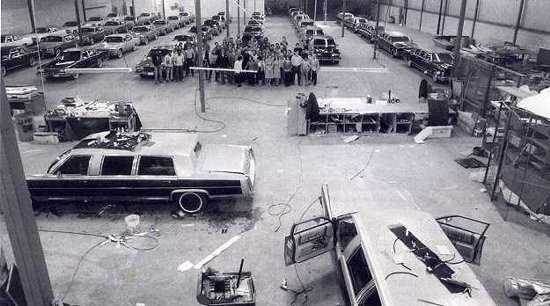 Moloney Coachbuilders's facility in Schaumburg, IL was the largest during the 70's & 80's
"That building was perfect for building limousines," says Moloney who also hoped to expand into armored vehicles and a new line of extended Cadillac sedans known as the EM Series. The new facility housed the industry's largest metal press for stamping side and trunk panels. The operation would be as close to an OEM production facility as the limousine industry had ever seen.
At the same time, though, more than two dozen coachbuilders were competing for a market of some 6,000 limousines a year and factory-direct sales were making it increasingly difficult for Moloney dealers to compete. One of these dealers was Jacques Moore who had been highly successful selling Moloney limousines at Moore Cadillac in Vienna, VA. Moore's solution to the problem was to offer to buy Moloney Coachbuilders. "The offer caught me completely cold," says Moloney. I had no intention of getting out of the business. We had just made a considerable effort to adapt the facility. But the offer was right." Moloney accepted Moore's offer and moved to a suburban Chicago facility to continue developing the EM Series.
Earle Moloney's timing was perfect. Sales dropped from an estimated $15 million in 1985 to less than $10 million in 1986 as the company gradually lost marketshare. When limousine sales began to decline in 1988, Moloney Coachbuilders changed its focus to the armored vehicle market where it is still active. "I could see the limousine industry was peaking," says Moloney, "but I didn't think it would go as flat as it did."
Now, Earle Moloney is back in the limousine industry with a company called Chicago Armor & Limousine which he started in 1991. The company is currently building 75 limousines and 30 armored vehicles a year at a facility in Elgin, IL. Production is managed by longtime Moloney employee George Towata while former Moloney Coachbuilders president Jim Centnet oversees amoring. "I think the limousine manufacturing business is coming back. I have to give Cadillac and Lincoln credit for assisting the manufacturers," says Moloney "They have gone 100 miles an hour to develop their coachbuilder programs. That has really helped to get bad product off the market."
"It's competitive in the industry today," he continues, "but it's fair and that's the way you like to see it. There are no bad apples. The manufacturing process is simpler and the vendor situation is more convenient. In general, I think workmanship is outstanding. No one should really be able to touch a limousine for less than $70,000. Limousines are the "Great American Giveaway".
Moloney hopes to build 200 limousines in the 1994 model year and move toward regaining his former share of the market. With an eye toward reviving former Moloney dealers, Moloney says, "We'll expand to a corporate limousine which will have some of the qualities of the old Cadillac Series 75. It will be affordable, sturdy, and easy to get around in." With the other eye toward the livery industry, Moloney may develop and crash test a long car. "The market seems to be heading that way," he says. "I think there's also a market for a $75,000 limousine which would be the epitome of luxury and quality. It would be a real challenge to capture that market, but I think we could do it."
Meanwhile, Chicago Armor & Limousine is working to establish the kind of reputation Moloney Coachbuilders enjoyed in the 1970s and 1980s by building a workhorse type of limousine that livery operators can earn a living with.
"Today's limousine buyers are very astute and demanding," he says. "If I was an operator, I'd be the same way. Most larger operators, like Al Golub at Chicago Limousine and George Parker at O'Hare Midway, are not concerned with designing their own cars. They're concerned about price, and they want their cars to run. They have dropped frills, like moonroofs, and are looking for an affordable limousine. That's what my company has always been known for and I plan to stick with it. I've never been known as the 'King of Cosmetics', but we've always been tight with trim and finish."
Even though Earle Moloney is essentially starting from scratch after having been the biggest name in the industry for over a decade, he believes his new company can regain his accustomed place in the market. "We are building a new reputation here," he says, "and the name Chicago Armor & Limousine gets older everyday"

Moloney feels that coachbuilding is much more competitive today
than a decade ago when he built this Seville limousine