One-Off Mark III Continental Sedan
From a 1989 Magazine
by B.B. Mills

MK III makes a very good looking, somewhat sporty four-door.
No matter where he parks it, Frank Masi's Mark III Continental four-door sedan is a crowd stopper.
The medium-blue metallic-lacquered car was the only four-door built on the Mark II frame. Ordered by the late Grover M. Hermann, former chairman of the board of the Martin-Marietta Corporation, the Mark III was modified by Lehmann-Peterson coachworks.
The 1970 Lincoln was received at the Lehmann-Peterson shop in Detroit (actually Chicago, an article error) in April of that year, where it was disassembled for body reconstruction. With the frame extended 7.3 inches, the drive-shaft was also extended. No additional mechanical changes were made. The slightly altered padded roof configuration was to match the car's added length, since the rear deck area wasn't changed.
Center opening doors give easy access to the silver-blue leather lined interior, in which the front seat backs still fold forward, as on the coupe. Room in the rear compartment is limousine size.
An interesting sidelight on the car's history is that one was supposed to have been built especially for Henry Ford II. Mr. Hermann heard of this and phoned Ford asking for a similar car. Ford replied that the Mark III came only as a two-door coupe. Hermann advised Ford not to forget where they got a sizable amount of their business, whereupon Ford asked Hermann what color four-door Mark III he wanted.
Ford Motor Company has no record of a Mark III Lincoln Continental being converted to a four-door, either for Henry Ford II or as a company-owned car, which makes Masi's car a bona fide one of-a-kind Mark III.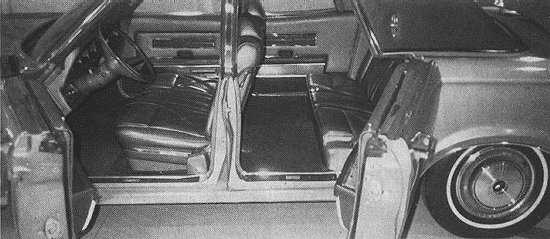 Small notches on edge of rear seat were needed to clear thick doors and armrests.
Converted to a sedan, the car's center pillar extends to the roof. The door windows are frameless and close against molded rubber weatherstripping. The body is tight and rattle free. Wind noise is minimal, and there are no drafts around doors and windows. The finished car weighs 5,594 pounds, some 719 pounds more than the old coupe. It is agile and responsive, with road holding actually superior to the Mark III coupe. Assigned Work Order 7016, this car was the third from last Lincoln to be built to order by Lehmann-Peterson. After Mr. Lehmann's death, the unfinished car was sent to Moloney Coachbuilders in Schaumburg, Illinois for finishing. Shipped from the factory painted grey, it was repainted blue and delivered to Mr. Hermann in December 1970. The cost of the conversion was $13,325, in addition to the $8,873.50 price of the coupe. Later alterations added $3,222.53.
Hermann kept the car until 1977, when it was traded on a new Lincoln. Mr. Masi is the second owner.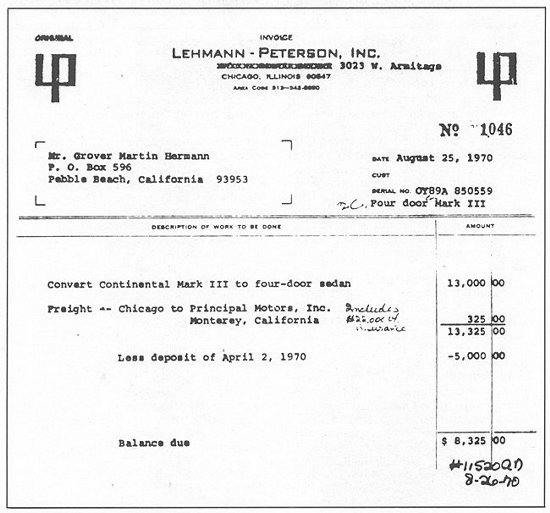 Custom coachwork bill seems cheap compared to some restoration costs today.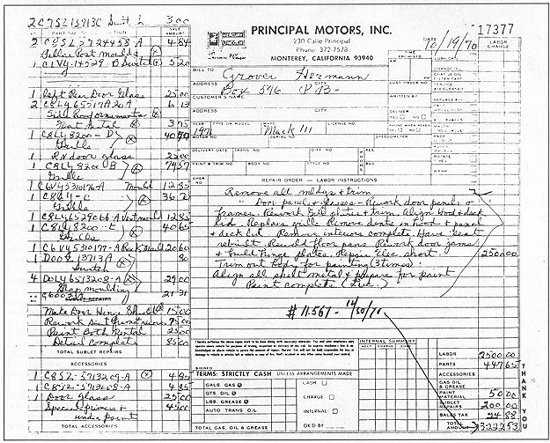 Repair and restoration when car was relatively young cost the price of a good used car back then.
(A more recent photo)