43 Years Later, Still a Presidential Running Mate
LBJ's 1965 Lincoln limo now idles in Middleborough
(Article from The Boston Globe Feb. 2008)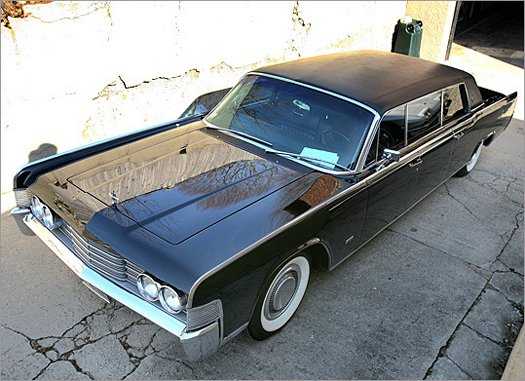 MIDDLEBOROUGH - For John Lawlor, the link between automobiles and presidents isn't limited to a holiday weekend once a year. Lawlor, self-proclaimed "spiritual, technical, and menu adviser" to Tom and Ray Magliozzi's long-running National Public Radio "Car Talk" show, owns one of the limousines used in the 1960s by Lyndon Baines Johnson, the 36th president of the United States.
Lawlor keeps the custom Lincoln, a 1965 model, in a garage that used to be part of the Maxim Fire Truck Co. complex, along with other vehicles he calls "orphans of today's collector-car and memorabilia craze."
But LBJ's car attracts the most attention. Lawlor came across it in 2002 while scouring the Internet. He searched for "Lehmann-Peterson," referring to George Lehmann and Robert Peterson, auto designers who collaborated with Lincoln between 1962 and 1970. During that time, they redefined the American limousine in their Chicago workshops.
"It was on consignment with a high-end dealership in Florida," Lawlor said. "I contacted them the next day, but they told me I was just too late, that the car had been sold."
The dealership gave him the new owner's name, however, and Lawlor tracked him down. "He was a serious collector," he said. "Another of his cars was one of the mid-'50s Cadillacs used in the film 'Driving Miss Daisy.' "
The owner told Lawlor the black limo "had been used in government service and may have been used by LBJ." In 2006, the limo was put up for sale again, and Lawlor bought it on the spot. "I paid about what you'd expect to pay for a nice Lincoln - not a limo - from that period," he said, about $20,000.
The seller attached one condition to the transaction. "He made me give my word that I wouldn't use the car commercially," said Lawlor, meaning he couldn't rent it out. "He wanted the car to go to someone who would preserve it for its historical value." It was only when the transport driver was unloading the car in Middleborough that Lawlor found out for certain he had purchased a presidential limo.
"The driver asked me where I'd found LBJ's car," said Lawlor. "I told him I hadn't, but he said, 'Oh, yes, you did.' "
Sure enough. If the dashboard plaque that said Lehmann-Peterson built the limo expressly for Johnson wasn't enough to convince him, the White House radio phone with extensions still labeled made it pretty clear that this was a special vehicle.
Most of the Lincolns made by Lehmann-Peterson, including those built for Cabinet members, had a walnut case in back that housed a small black-and-white TV, but this one was different. "It had a pop-up bar and the original crystal [glassware] that came with the car," Lawlor said. "It also had LBJ's inaugural invitation, a schedule of events, and keepsake keychain."
And it was in remarkably sound condition, with just 36,000 miles on the odometer and a 430-cubic-inch engine that produces 340 horsepower.
To create a presidential-worthy limo, Lehmann-Peterson took the basic Lincoln sedan of the day, cut it in half, added extra support and a 34-inch insert. The result was a car that was a shade over 22 feet long with more body rigidity than a standard Lincoln. The thicker body panels were more for reinforcement than protection - genuine armored limos would not come until later. The suggested retail price of a Lincoln sedan was about $6,400; Lehmann-Peterson versions cost $16,000 and up.
"It's got plenty of power," said Lawlor. "It's also remarkably stiff and rattle-free. And, for its size, it's pretty nimble. It's right at home on the roads today, and you could use it as a special-event vehicle."
Still, Lawlor drives it sparingly. "You don't want to challenge our potholes in winter or spring," he said.
Craig Fitzgerald, a staff editor at Hemmings Motor News, the bible of the collector-car industry, estimated the car's value at between $100,000 and $125,000.
"It's got two things going against it and one thing going for it," Fitzgerald said. "First, Lincolns never have been big-money cars. Nor have limos. They tend to be hard to drive and take up a lot of storage space. But it has the presidential cachet."
To Lawlor, LBJ's car is priceless.
"How do you put a price on something that was part of history?" he said. "Nobody else wanted it when I bought it. And nobody helped me make the credit cards payments when I was paying for it."